Welcome to SoulSolution.com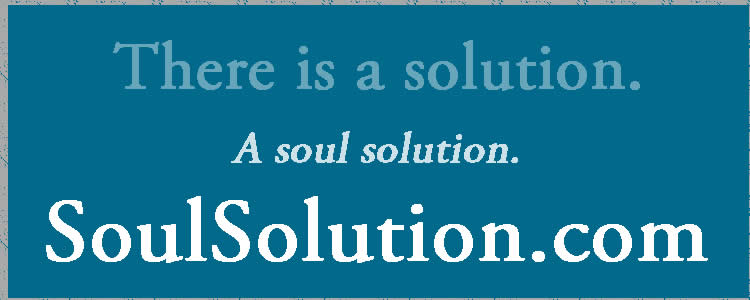 (* For any Coronavirus (Covid-19) information, please go to news. The CDC has a website with about 10 steps for you to follow to stay safe and healthy here. If you feel like you are coming down with symptoms, please get tested ASAP.)
This is a website, a future book and a group project; meaning a group of people called "humanity" within the planet earth. Yes, that means you too. I say this because I think of our soul as one of the things that connects us all on this planet. Apart from the power of love that we can share with others and ourselves, it is our soul that we all have and as a group a larger version. We all have a soul. There are some who do not believe in God or a higher power. Believe that if you want, but you still have a soul. I want you to know one thing on this if that is you, I am not here to proselytize, convert you, or place any judgement or opinion on what you think about God or religion. I won't even tell you about what I believe because it's irrelevant. I am merely here to say, we all have a soul. And many of our solutions should be based on this. Call this a website about humanity, caring for yourself and others, or digging deeper into who and what we are. This is SoulSolution.com
For those who also do not believe that there is a soul, I invite you to go to our page here called The Soul.
I encourage everyone and anyone to share our media and to take the time to read about all the solutions we list on the site here. If you think of any soul solutions we have missed, please contact us and let us know. At some point in the future, it would be great if we could list every type of support offered including religious, spiritual, non-denominational or unaffiliated with religion but helpful none-the-less like a suicide help line (which we do list by the way). Contact us if you see errors and if there is anything we can do better.
Thank you,
SoulSolution.com
T. Foley
P.S. Like our lives, this website is a work in progress. So come back often as we update often.